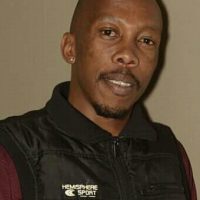 Philip Mabote was born and raised in the Eastern Free State and is currently staying in Braamfischerville, Johannesburg. He studied Professional Printmaking at the Artist Proof Studio, Johannesburg and has worked as a print facilitator in a number of print studios in Johannesburg including 5 years at the Sharon Sampson Studio. As an artist he has participated in many exhibitions and projects including a solo exhibition with Candice Berman Fine Art Gallery called "Hunting for lost memories".
Linocut is Phillip's chosen medium. Linocut is a relief printmaking technique where sharp tools are carved into linoleum. "I enjoy the clean, crisp and bold mark-making I can achieve using this technique. Using exceptional tools enables me to create sensitive lines with great fluidity."
Phillip's Artist Statement is interwoven in his Artwork Descriptions. His work and subject matter reflects inner monologues, in an attempt to understand the complexities of life and how he fits into his family structure.